The best day of your life is coming up and you still haven't thought about your bridal beauty look? Well, after you have the dress the next step is to plan your look from hairstyle to makeup! You will want to look great on this very special day, so planning your beauty regime well in advance is key. There are lots of things to plan in the run up to your ceremony, but carve out some time to sort everything beauty. Here are our top tips for a look worthy of a bride:
1. Be prepared
As the famous motto goes: a woman who comes prepared is worth two. On your wedding day, this is especially true. A few months ahead of the big day spend some time in all things bridal beauty, by researching good stylists, hairdressers and make-up artists who might be able to help you achieve that ideal look. Get recommendations from friends or family, but remember that adding a personal touch to your look is also important. Save different images of beauty looks you like to show your bridal beauty team and make sure to book a trial session in advance, so you have time to go back and forth on your look as much as you need, until it's perfect!
2. Be simple
When deciding on your look it is best to go for something classic and elegant, nothing too elaborate or distracting. Traditional braids are a great option for long locks: they are old fashioned chic at its best! And if you have a short hairstyle, like a bob cut, you can style it with elegant waves or keep it even more simple by just adding a bridal headpiece for a tasteful touch.
3. Be comfortable
This gets us to another important tip when it comes to styling for your wedding day – find a way to keep hair out of your face and your makeup on point so you're as comfortable as possible throughout the day! You want to be able to enjoy the ceremony, not stressing about a strand of hair hanging over your eyes or the mascara rubbing off. In favor of a beautiful, yet comfortable, look go for an elegant updo or just a classy hairpin on the side if you have a bob cut. And don't forget the benefits of waterproof makeup and some oil-absorbing sheets to remove shine.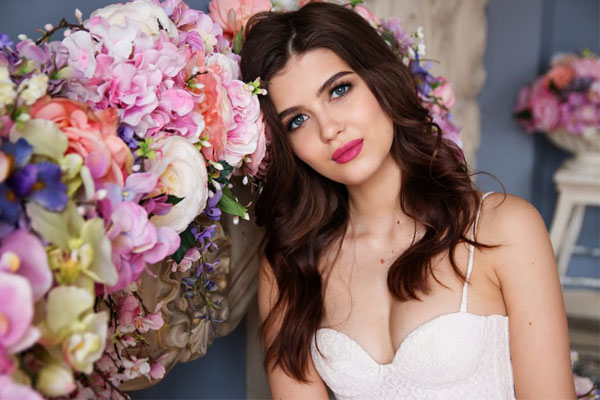 4. Be stylish
You can keep your beauty look simple, but still jazz it up with accessories to add that touch of personal style. Ribbons, jewels, flowers, sequins and pearls are amongst the bridal headpieces you can choose from. Your wedding day is the day to enjoy a little glamour and this is a great way to match your beauty look to your clothes too. Try weaving a piece of material matching your dress into your hair, or place a few flowers matching the bouquet along a braid.
5. Be pampered
Your bridal beauty look won't come together only on the big day with hair and make-up – you have to book the last week before the wedding to pamper yourself from head to toe, as you deserve! This will be your spa week, to relax and get some final touch ups done so your look is flawless. You should make room in your agenda to do the following:
• Visit your dentist to get your teeth gleaming for when you say the big 'Yes!'.
• Get your waxing up do date ahead of time, so you don't have to cover up fresh red patches on the day.
• Prepping your skin by exfoliating and moisturizing, in order to get rid of dry skin cells and achieve a healthier look.
• Getting your eyebrows tinted plus eyelash extensions – your eyes will thank you later when they really stand out in the pictures!
• Prepping your hair with deep conditioning treatments plus a hairdresser appointment to get rid of split ends and touch up the roots, if needed.
• Booking a manicure beforehand – choose a shade that matches your wedding's colour scheme and consider getting fake nails if you are addicted to biting them. Don't forget all eyes will be on your ring finger on the big day!
• Find a moment to relax! You deserve a day in the spa before becoming Ms. and this includes a nice massage, of course.
There are so many options you can choose from when it comes to hair and beauty for a wedding. The key things are to plan in advance, know what you want and don't settle until you get it! And in the midst of all the planning, don't forget your own self and take a moment to relax and get the pampering you deserve. Good luck and enjoy the most beautiful day of your life!